Into a New Stage of Development of Antibacterial Technology
Bacteria cause infections all over the world. Bacteria with acquired resistance to antibiotics pose public health problems that need urgent action. We have developed a anew antibacterial mechanism of action on the basis of bacterial structures and growth processes.
This technology is based on basic research that has thus far been conducted for a long period. In addition, it has been supported by Program for Creating Start-ups from Advanced Research and Technology (2012-2013), Ministry of Education, Culture, Sports, Science and Technology and Strategic Foundational Technology Improvement Support Operation (2012-2014), Ministry of Economy, Trade and Industry.
Using this technology thus developed, we aim to achieve "Global environment-friendly phylactic technology, production of safe food, and society of clean living and coexistence with living organisms."
This technology is an original technology with a new antibacterial mechanism.
New Antibacterial Nano-particles
We have created an antibacterial acrylic nanopolymer as a totally new antibacterial means.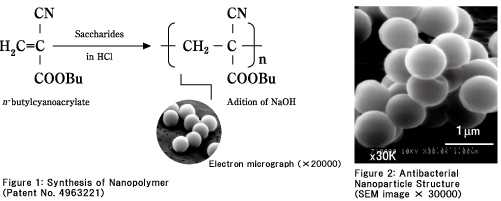 Nano CAME's New Technology
We focused on the cell wall of bacteria and bacterial growth process. Most bacteria have cell walls. Similar to the maintenance of the shape of human bones, bacteria has an important mechanism of maintaining their structures by keeping the internal pressure low (8 to 20 atmospheres). When bacteria keep growing, cell walls also repeat growth and reproduction.
Antibacterial Nanoparticles created by Nano Came exert their effects by adsorbing to the cell wall.
Antibacterial Nanoparticles have a high affinity for the sugar chain peptide surface layer of the cell wall and inhibit the synthesis of the cell wall in local areas to which Antibacterial Nanoparticles have adsorbed.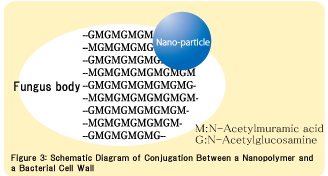 The cell wall grows in the areas where Nanoparticles have not adsorbed. This causes unbalanced growth in these areas as compared to the areas to which Nanoparticles have adsorbed (location of conjugation) and makes it impossible to maintain the internal pressure, leading to autolysis.

The autolysis of Staphylococcus aureus, induced by Nano-particles (movie)
Produced by Dr. Shoichi Shirotake, previous professor of Grad. Sch. Med., Yokohama City University
Characteristics of New Technology
These nanoparticles that evoke apoptotic effects in bacteria are the first technology of its kind in the world, and we have filed an application for patent.
Conventional antibacterial technologies have allowed the occurrence of resistant bacteria due to the widespread use of antibiotics, i.e., an additional risk of infection. Moreover, inorganic antibacterial technologies have been associated with uncertainties regarding stable product supply and have demanded consideration of the impact of rare metals used in these technologies on living organisms and the environment. In contrast, this new technology induces autolysis of the bacterial cells without the use of rare metals. This technology has the following characteristics.
It does not lead to the occurrence of resistant bacteria, and its effect is sustained.

It does not require rare metals and ensures a stable supply.

It ensures safety in the body and does not damage the environment.
Experimental Example
1. MIC Table
Pathogens
MIC Results (μg/mL)
Nano-particles D•Gly
Nano-particles D•Arg
Nano-particles D•Asp
Nano-particles D•Ala
Antibiotic ABPC
Rubbing alcohol
Staphylococcus aureus
50
50
50
50
0.25>
15000
Staphylococcus aureus
50
50
50
50
2
60000
Multiple drug-resistant and methicillin-resistant Staphylococcus aureus
100
100
50
50
>128
60000
Multiple drug-resistant and methicillin-resistant Staphylococcus aureus
50
50
50
50
>128
60000
Enterococcus
50
50
25
50
0.5
240000
Multiple drug-resistant and vancomycin-resistant Enterococcus
25
50
25
25
2
60000
Multiple drug-resistant and vancomycin-resistant Enterococcus
25
50
25
25
1
120000
Streptococcus
(formerly milleri group)
25
50
25
25
0.25>
60000
Streptococcus pneumonia
12.5
12.5
12.5
12.5
0.25>
30000
Streptococcus pyogenes
12.5
12.5
12.5
12.5
0.25>
15000
Peptostreptococcus
6.3
12.5
6.3
6.3
0.25>
15000
Corynebacterium diphtheria
25
25
12.5
12.5
0.25>
15000
Propionibacterium acnes
12.5
12.5
12.5
12.5
0.25>
60000
2. Induction of Autolysis of Multiple Drug-resistant VRE by Antibacterial Nano-particles (SEM × 15000)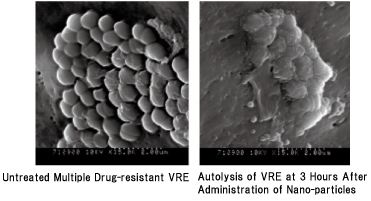 3. Induction of Autolysis of VSE by Antibacterial Nano-polymer (SEM × 15000)